Contributors
AWARE is a community effort. Created by Dr. Denzil Ferreira as a result of his PhD – co-supervised by Prof. Vassilis Kostakos (University of Melbourne, Australia) and Prof. Anind K. Dey (Carnegie Mellon University, USA) – AWARE has since evolved with the many contributions of fellow researchers and students spread out all over the world. This list is not all-inclusive. Let us know if you'd like to be featured here!
| | | | |
| --- | --- | --- | --- |
| | | | |
| Denzil Ferreira | Mikko Korhonen | Henri Koski | Aku Visuri |
| | | | |
| Riku Kallio | Niels van Berkel | Chu Luo | Simo Hosio |
| | | | |
| Juan Camilo | Matti Pulkkinen | Armand Ribouillault | Markus Särkiniemi |
| | | | |
| Mikko Väisänen | Nikola Banovic |  Julian Ramos | Christian Koehler |
| | | | |
| Yuuki Nishiyama | Jung Wook Park | Richard Darst | Pujun Lun |
| | | | |
| Julio Vega | | | |
You may reach most of us on our discussion board if you have questions, to brainstorm new plugin ideas, report bugs and other things. Come say hi!
Email
For research collaborations, you may contact: denzil.ferreira@oulu.fi.
About us
We are the Center for Ubiquitous Computing at the University of Oulu. Our address is:
Center for Ubiquitous Computing
Department of Computer Science and Engineering
Erkki Koiso-Kanttilan katu 3, Door E
P.O. Box 4500 – FI 90014
University of Oulu
Finland
How to find us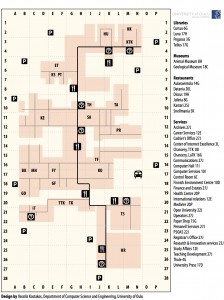 We are located at the Linnanmaa Campus of the University of Oulu, in the Department of Computer Science and Engineering. The University offers some general travel instructions.
Once you arrive on campus, please make your way to the Computer Science Building. This is the building marked "TS" on the campus map. Click on the thumbnail for a larger PDF version of the map.
By Car
See the map below for driving directions. The University offers some public parking spaces, but it is best to contact us if you plan to visit by car.
Bus service
There are frequent bus services from the city centre to the our campus, including busses no. 5, 7, 19, and 22, which take about 20 minutes.  In addition, service 19 goes from the airport to our campus via the city centre, taking about 45 minutes. Google Maps offer timetable search, or you can use the local bus website.
Taxi service
There are many taxi services operating in the region. One you can use is Aluetaksi.